Orientation Meeting for Bacui International Community
Orientation Meeting for Bacui International Community
On Aug. 31st an orientation meeting for foreigners in Beijing Bacui Bilingual School (BBBS) was held successfully in the meeting room for the 2018-2019 academic year. Hannah Jiang, the Vice Principal of the International Department, led the meeting.
The meeting reviewed procedures consisting of initial small group discussion, schedules for foreign teachers, introductions of academic packages as well as a more interactive part which invited four experienced teachers to share their ideas on education. The whole process was fulfilling and exhilarating.
Following are some highlights of the teachers' sharing:
Lorell, Senior 2, Math & Physics teacher from SACE (South Australia Certificate Education)
"I have been teaching three subjects with our program. From my years' of experience, I sincerely believe that teachers should know their subjects well. In addition, we should know how to teach in a way that we can communicate to the students."
Julia, SACE EAL teacher, year 7-9, ESOL teacher
"Don't be afraid to cover the basics, when I taught Junior One, I found I have to go back to the beginning. I treat them strictly by giving students more responsibilities. So when they upgrade themselves to Junior Two, the expectations are already there. "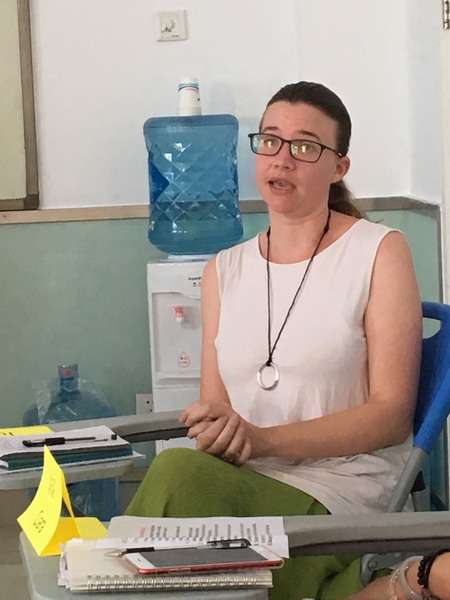 Angela, International Primary School teacher
"You should communicate with the other foreign teachers and subject teachers. Indeed, we are all here to help the kids. We set the rules, and they make progress bit by bit at the end of every semester."
Their teaching attitude has encouraged all the member teachers who echoed their agreements. Another highlight of today's orientation was the review of our curriculums, mission statement as well as students' objectives. For grade 1-11, we offered CAIE, Cambridge Assessment International Education, which runs from CIPP to IGCSE. For grade 12 SACE, we offer South Australia Certificate Education. On top of that, our principal Hanna Jiang also restated and interpreted our mission statement:
"Our school will provide students with the best and viable education so that each child reaches his full potential."
Students' Educational Objectives are as follows:
We are in the pursuit of cultivating students to be disciplined in manner and behavior with good learning and living habits, excellent academic grades, a healthy body, special talents in arts and sports, fluency in two languages, organic emotion towards their family-country with a broad international view and the noble ambition to be leading elites standing above their peers.
These are merely literal descriptions, but teachers need to put in constant effort in order to achieve the above mission and educational goals. In light of this, Hanna emphasized that unlike in the traditional Chinese classroom, teachers need to strive to engage students. Whether it is bringing in some new concepts everyday or using cutting-edge teaching skills and even the teachers' dress or facial expressions can be different and engaging. In order to achieve this, teachers should become life-long learners so that they can craft and innovate in their day-to-day teaching.
Hanna also covered the teaching structure of an effective lesson, which starts from setting a plausible and concrete teaching objective, assess prior knowledge, and then goes to variable teaching activities that have logical connections, finishing with testing the results within the same class at the end. Classroom autonomy for teachers should be the combination of academic freedom with academic professionalism. The golden criteria for evaluating a successful lesson are the students' learning outcomes.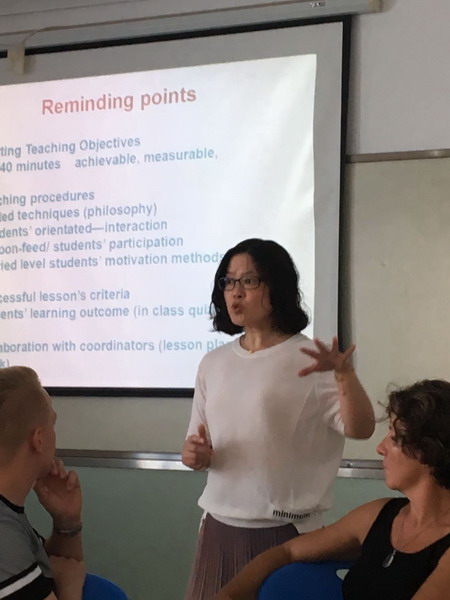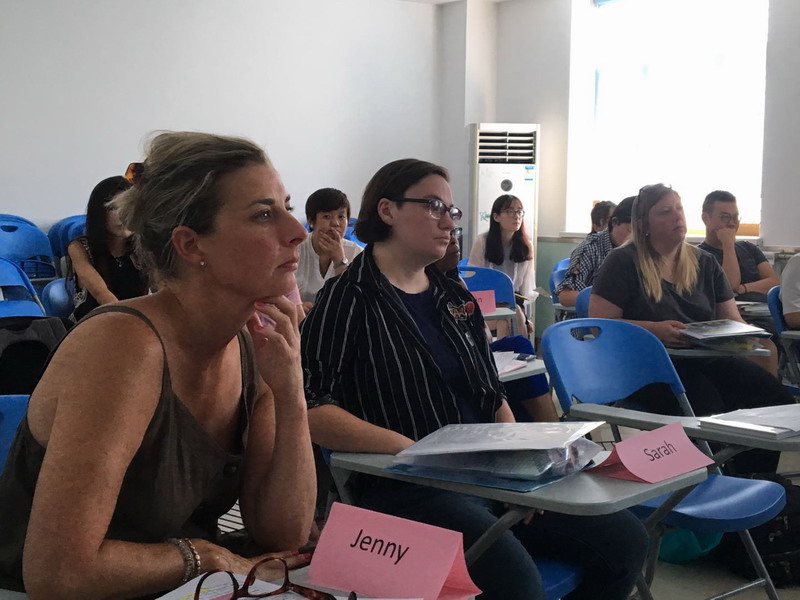 Ricky Paguio, a new teacher in ESOL 3, 5 and 6 expressed his thoughts after the meeting: "It is very challenging, but I believe I can do this with the co-teachers in our department. I hope to have good relationship with them and I am very excited for the new semester."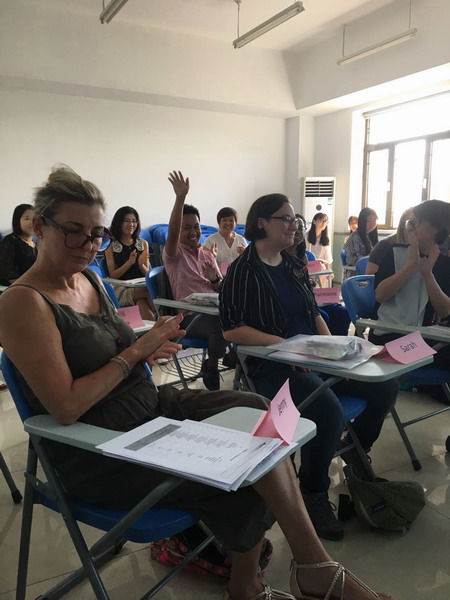 Ruth, a new Math teacher in senior one, gave her feedback of today's meeting as "quick and very effective. It was helpful. I couldn't agree more with the school's academic criteria and am looking forward to implement it into the reality."